Right of way definition and useage often raises many questions. To help with the understanding of what the right of way is and usage/regulations of the right of way by Becker Township, this webpage has been created. If you have questions that are not answered, please contact us.
1. What is Right of Way?
Becker Township's Right of Way ordinance definition

Right of Way means the area on, below, or above the public roadway, bicycle lane, and public sidewalk in which the town has an interest, including for travel purposes and utility, and drainage easement.

2. What are common right of way violations?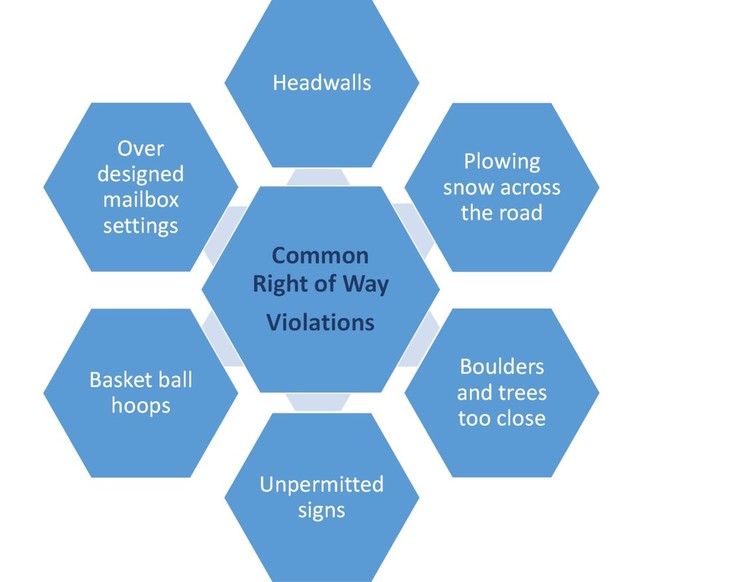 3. What is the proper way to design my driveway?
Headwalls
Headwall means rock, concrete, masonry, metal, timber, or other similar materials placed on the sides of an approach as support, to prevent erosion, or for decorative purposes.​ By Ordinance, headwalls are not allowed in the township.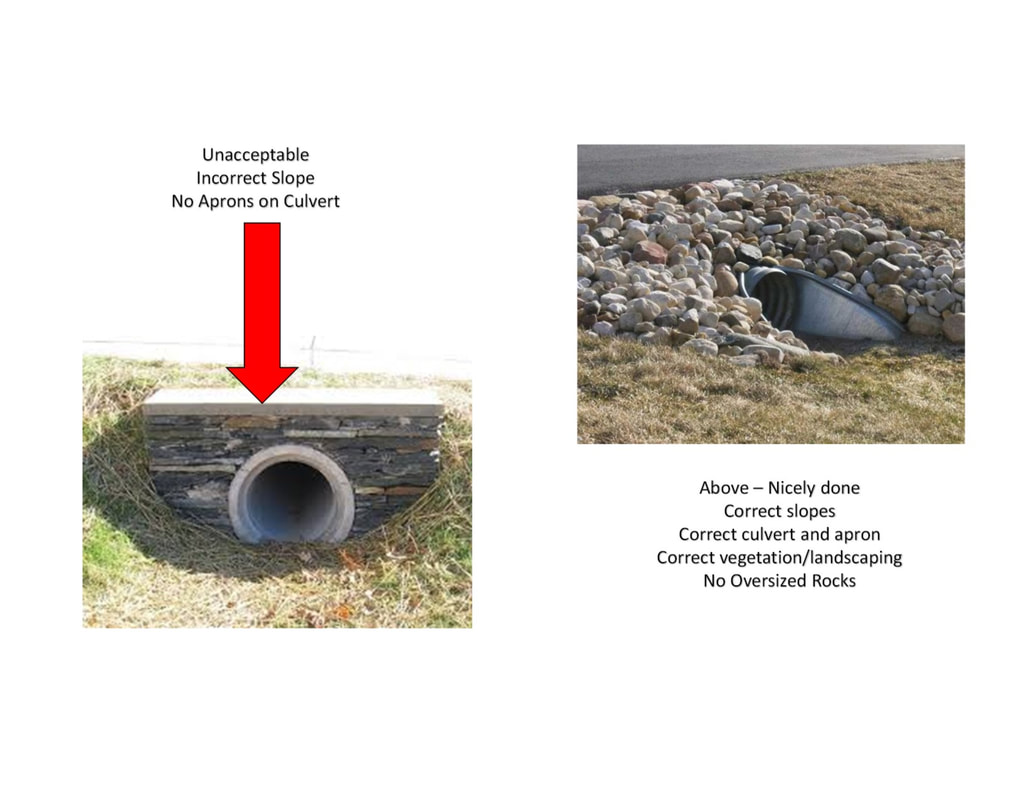 If you receive a notice from the Township about an inappropriate headwall, you may find the Headwall correction detail on the right helpful. Even if your headwall has been in place many years, it is likely still illegal. While the township tries to catch headwalls as they are placed, many have escaped notice. The Town Board is working to notify all homeowners of illegal headwalls.

There is also a residential culvert standard document to the right that is helpful when placing culverts for your driveway.

Mailbox standards are also available. The preferred swing away mailbox stands are available at the Becker Town Hall during office hours or by appointment.




​

---
4. Can I store my personal property in the right of way?
| | |
| --- | --- |
| No. Becker Township's Snow and Ice Policy reads: Town road rights-of-way are governed under the authority of the Town, and for the benefit of the public. It is the policy of the Town to place the highest priority upon keeping the roadways reasonably clear of snow and ice, and to hold property owners primarily responsible for placing their private property out of harm's way. The Town's snow and ice control operations are performed by independent contractors upon the rights-of-way in furtherance of the public's interest in maintaining clear roads for travel. It is unlawful for any person to place within the right-of-way any personal property that may obstruct the Town's snow removal efforts. It is the responsibility of owners to keep the road rights-of-way clear of vehicles, trailers, trash cans and other items of personal property in order to facilitate the proper snow and ice control operations. No vehicles, trailers or other items of personal property shall be parked or stored in a public right-of-way from November 1 through May 1. If an owner fails to keep the road clear of personal property, the Board or the Contractor may have the item towed or removed from the right-of-way at the owner's expense. Neither the Town nor the Contractor shall be responsible for damage to any personal property that is left in the right-of-way during snow removal operations. Nor shall the Town or the Contractor be responsible for damage resulting from snow removal operations to any lawn, landscaping, sod, plantings, buildings or other real property improvements that are located in the right-of-way. While reasonable efforts will be made to avoid damaging private property, snow and ice control operations may result in damage to the property of others.​ | |
5. Can I alter my driveway?
Yes, however you must follow regulations.
If you are putting in a driveway with a new home construction, one driveway/road access per property is allowed with your building permit at no additional charge. You need to have this driveway inspected prior to being issued a certificate of occupancy. To do so, you must contact the Becker Township Engineer at 763-262-8822 or contact the town clerk at 763-261-5301 to help schedule this inspection. If you do not have a driveway approval permit, you will not receive a certificate of occupancy for your new home.
If you need to alter a driveway, work on landscaping at the end of your driveway, or put in an additional driveway, there are township regulations that must be followed and permits that must be obtained (permits can be obtained through this website's permit page or contacting the clerk).
Depending on what you plan, the clerk will direct you to the appropriate personnel. Headwalls are not permitted in the township. Aprons are required for culverts. See the Driveway and Approach Engineering Standards below. If you have any questions, contact the Township Engineer at 763-262-8822 or the Town Clerk.
Fees for right of way permits include both a fee for the permit and a construction deposit. Both fees are required at the time of application. The construction deposit will be returned upon verification that no damage to the right of way has occurred.
Depending on what you plan, the clerk can direct you to the appropriate personnel.
Driveway permits must start with either the Township Engineer or the Township Clerk.
Top of Page
See Some Examples - COMING SOON - The following are some good driveway designs that abide by township standards. If you think you have a good design for your driveway, located in Becker Township, let us know and it will be verified. If it is correct, we would love to get a photo for the website.
6. What can go in the right of way?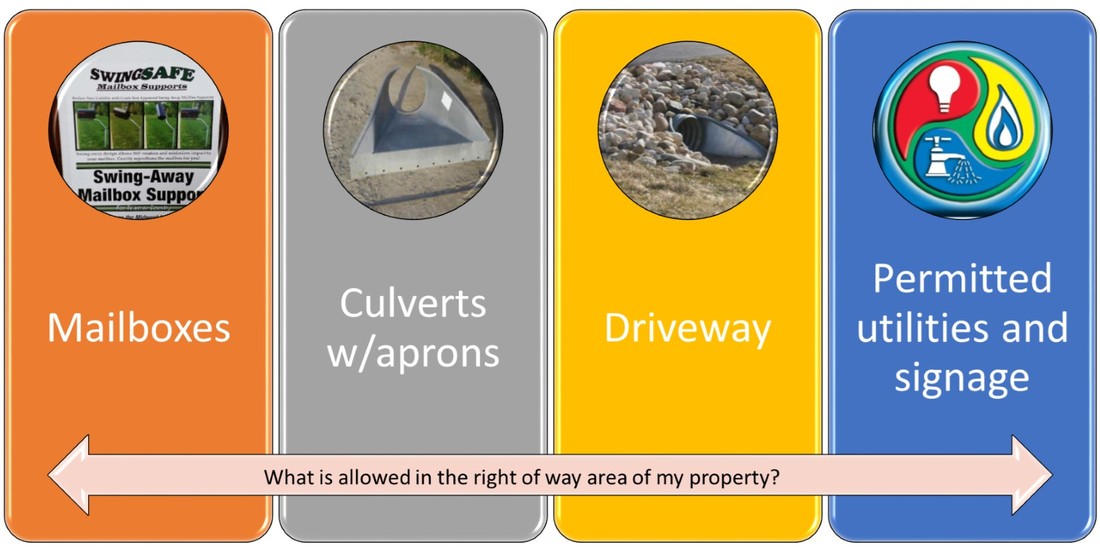 6. Utility permits are required.
Utility Permit Form - required for work in township right-of-way

The Township prefers a Construction Performance Bond, for a single permit, of $500 or a $500 Letter of Credit; and for unlimited permits, an Annual $5000 Letter of Credit. If you do not remember if you have one of these on file with the township, contact the township clerk or treasurer.
Please contact the Township Engineer for assistance with all utility permits. If you do not have the email/phone for the Township Engineer, contact the clerk via email or phone 763-261-5301 for assistance.
Top of Page